Technology
Mars rover Curiosity and will.i.am collaborate to inspire students to "Reach for the Stars"
Wednesday, August 29th 2012, 2:43 PM CDT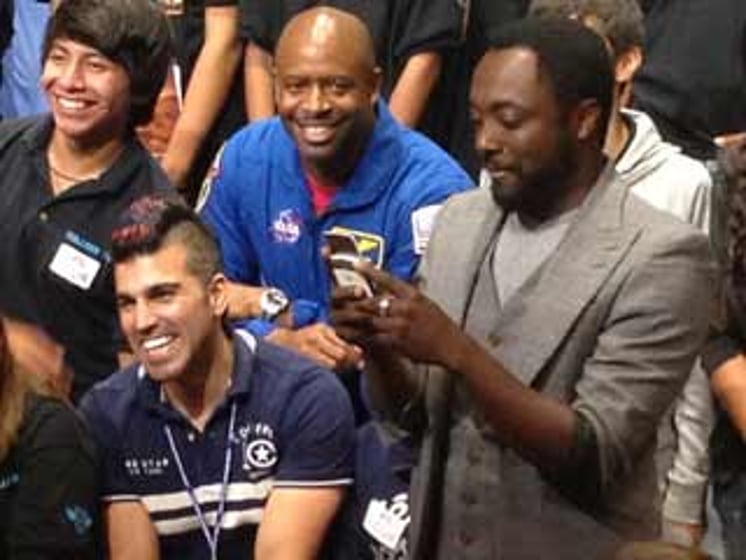 (WORLDNOW) – The Mars rover is acting more and more like a teenager. It tweets, posts photos of its adventures, writes notes to itself in the ground and is now using Auto-tune to make its own songs. As impressive as all these feats are, the most impressive thing about the Mars rover is that it is making its "parents" cool again.
The public image of the men and women of NASA started changing almost as soon as Curiosity touched down on the Red Planet -- photos of NASA engineers cheering and celebrating began circulating the Web. It was heartwarming to see such bursts of raw joy and achievement, especially since NASA engineers are often portrayed as being silently focused on their computers. Then the "NASA Mohawk Guy" became an Internet celebrity. As memes tumblr'd forth about him you could almost hear the Internet asking "Is this guy really this awesome?" and "When did NASA becoming cool enough to let some dude with a mohawk and stars cut into his hair work there?"
And now, to top it off, tastemaker and arbiter of cool will.i.am, best known for his work with The Black Eyed Peas, has collaborated with NASA to write and transmit a song to Earth from the surface of Mars.
"Reach for the Stars" was recorded over a year ago and given to NASA to include in the Curiosity rover's computer system. The song remained a secret until it was revealed, not during a concert or at a music industry event, but before an assembly of students. "Stars," which features soaring and inspiration choral arrangement, is about setting high goals for oneself, and reaching them. The fact that it was played back from the stars (via Curiosity's remote connection to NASA) was a nice theatrical touch to drive home its dual meaning.
During the event, will.i.am spoke humbly about the honor of being able to work with NASA and the importance of young people studying science, technology, engineering and math (or STEM for short). He wasn't there to drive these students to follow his path to stardom, but to follow the path of NASA's engineers into science, and perhaps, into the stars themselves.
Once Bobak Ferdowsi, the "NASA Mohawk Guy," began the song's transmission the students and engineers alike listened to its debut performance. A few of the students moved along but it was the engineers who really got moving. As the song played, NASA's cameras showed the scientists smiling proudly and dancing along.
Less than 10 years ago The Simpsons based an entire episode on the idea that NASA was no longer cool and that the general public had lost interest in the program. Now, A-list musicians are bragging about working with NASA to once again inspire the nation's youth… all because a group of scientists was able to re-capture our attention by putting a rover on Mars.
Dan Meade is the Entertainment and Technology editor for Worldnow. You can follow him on Twitter here.