Technology
Levar Burton Reading Rainbow Web app raises $1 million-plus on Kickstarter in one day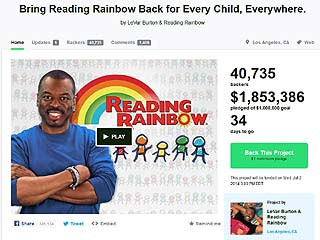 Building off the success of the
, Levar Burton launched a Kickstarter campaign earlier today that will bring the application to the
as well as offer classrooms subscription-based supplemental learning tools that include interactive books and video field trips. In less than twelve hours, Burton surpassed the
and is now quickly pushing toward $2 million with 35 days still left in the Kickstarter campaign. 
Speaking about the importance of
I believe that every child has a right, and a need, to be literate. We have a responsibility to prepare our children…and right now, the numbers show that we, as a society, are failing in that responsibility. Right now, 1 out of every 4 children in America will grow up illiterate…Now, I am hoping you will join me on my mission: to bring Reading Rainbow back for every child, everywhere
." When the program was on television between 1983 and 2006,
won 26 Emmys as well as a Peabody award.
According to the project details, the funds will be used to build a Web version of the
application that can be accessed on any desktop or laptop computer. In addition, a specialized version of the application will be created for the classroom with tools for teachers to use. While this version will be provided to schools on a premium subscription basis, a large portion of the funds will be used to subsidize the cost of the application for at least 1,500 needy schools around the country. That number is likely to increase as additional funding stretch goals are met over the life of the Kickstarter campaign.
In order to encourage more backers to contribute to the campaign, Burton is offering up his time for video messages, custom voicemails, video chats, group picnics and private dinners as well as backing levels related to his time spent playing Geordi La Forge on the popular television series
Star Trek: The Next Generation
. Interestingly, the more expensive backing levels offer the opportunity to purchase a year-long subscription for a classroom or even an entire school. 
Of course, Burton also mentioned that children have transitioned from watching educational programming on television to spending more time using educational applications on tablets like the iPad. According to Burton, kids are reading approximately 139,000 books per week using the iPad application. Speaking about the production value of the application, Burton said "
I'm really proud of the way we've translated the television show into a tablet app for kids, The nature of the show really lends itself ideally to the digital realm
This type of Kickstarter campaign is less about providing a specific product to a backer and more about supporting an expansion of the application to reach more children around the world. It's likely that many of the project backers are young adults that grew up with the programming during the late eighties and the 1990's. After the project hit the $1 million goal, Burton
to his Twitter followers. He also
popular Twitter user and former
Star Trek: The Next Generation
star Wil Wheaton for his financial support in adopting a classroom. 
This article was originally posted on