Sales - Back to School
Back to school laptop bag guide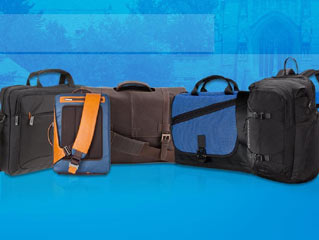 Konrad Krawczyk
Provided by

The new school semester is just about to begin, and some of you might be on the hunt for a brand new laptop bag. If so, you should keep reading, because we put together a roundup of the best laptop bags we could find. Their price tags vary, ranging from $15, to roughly $230, so there's something here for every budget. Our picks can handle laptops of any size, from tiny 11.6-inch devices, to 17-inch beasts.
We could go on and on, but we'd rather get right to it. Here are the top five laptop bags we could find for students.
We included the AmazonBasics 15.6-inch Laptop and Tablet Bag in this roundup not only because of its super low price of $15, but also because not everyone loves bulky laptop bags. The AmazonBasics 15.6-inch Laptop and Tablet Bag cuts the fat and keeps it simple.
"Basics" is definitely the best way to describe this bag with a single phrase. It's a no-frills container that's thin, measuring 12.6 x 9.6 x 1.9 inches, and weighing 12.32 ounces. It has three zippered compartments. The largest is for your notebook and the other two can be used to hold stuff like notebooks (the paper kind), pens, pencils, calculators, a mouse , and other doodads.
This article was originally posted on