Entertainment
Netflix announces 'Sabrina the Teenage Witch' reboot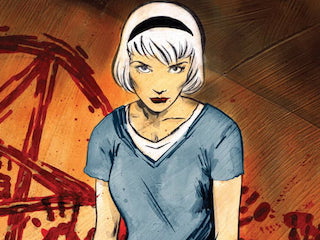 Sabrina the Teenage Witch was one of the defining shows of the 1990s and, like many things from that era, it's getting a reboot. The show will air on Netflix and is being produced by Roberto Aguirre-Sacasa who also produces the CW's Riverdale. 
Like Riverdale, the new version of Sabrina will likely be darker than some fans are used to, considering that it is based on the comic series The Chilling Adventures of Sabrina. The ongoing series delves heavily into themes of the occult and the darker aspects of Sabrina's life as a witch.
Originally meant to be a companion show to Riverdale, Sabrina was moved to Netflix. The streaming company is a good fit for the series, considering that it has streaming rights to Riverdale, and the show's first season did very well on the streaming service. It also did well for the CW, as it has been reported that the show's second season premiere grew 60 percent from the previous season's midseason debut.
"Probably more people watched it on Netflix thinking it was a Netflix show," the CW's Rick Haskins told the Hollywood Reporter. "Our real challenge was taking those viewers and moving them over to The CW."
Right now, it is unclear as to whether or not this show will tie into Riverdale or not. Crossovers might be difficult since it is a Netflix show, but the first season of Supergirl aired on CBS before joining the Arrowverse, so it wouldn't be completely unheard of.
Assuming the show does well, we might see the emergence of an "Archie-verse" as Aguirre-Sacasa has said that he would like to delve deeper into the Archie library.
"One of the nice things about me being a part of Archie Comics is having access to a library of 4,000 to 5,000 characters," Aguirre-Sacassa said prior to Riverdale's debut. "Sabrina the Teenage Witch, Josie and the Pussycats … those are characters who can very easily support their own show. But we [also] have superheroes. So in success, yes, the goal is to expand that way."
Netflix has announced two 10-episode seasons which are going to be shot back-to-back. A premiere date hasn't been announced, and we don't know how the two seasons will be divided up. It's possible Netflix may release it all at once or do things a bit more slowly.