Entertainment
Netflix reportedly pursuing new series with Barack and Michelle Obama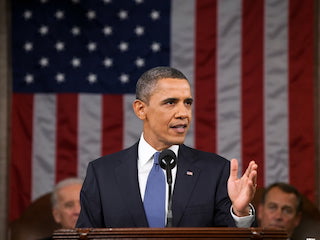 Netflix is in talks with former President Barack Obama for a new series that will be exclusive to the streaming video service.
Although the length and format for the series has yet to be decided, The New York Times reports that the deal would have Obama and his wife, Michelle Obama, provide content that would only be available on Netflix. Sources close to the deal indicate that the series might focus on inspirational stories or feature moderated discussions of the topics that were highlights of the Obamas' time in the White House.
The report indicates that some episodes could feature conversations on health care or voting rights moderated by Barack Obama, while Michelle Obama might moderate a show focusing on nutrition, for example. Other potential show ideas rumored for the deal include documentaries or other projects endorsed by and possibly introduced by the Obamas.
According to the report, Netflix isn't the only streaming content provider to pursue a collaboration with the Obamas. Executives from Apple and Amazon have also reportedly been in talks with the former president and first lady.
Terms of the Netflix deal are unknown at this point, but it will be interesting to see what sort of arrangement the streaming service works out with the Obamas, given the company's recent surge in spending on original content.
The company handed what is reportedly one of the largest television contracts of all time to Glee and American Horror Story creator Ryan Murphy in February, luring him to the streaming service in an estimated $300 million deal. Previously, the company spent Hollywood-level money on the original film Bright, which cost around $90 million and was estimated to be viewed by more than 11 million people during its first three days of its release. Netflix also paid comedian Dave Chappelle a reported $20 million for each of four stand-up comedy specials were released on the streaming service in 2017.
One thing the Obamas' series on Netflix won't reportedly do, however, is directly respond to his current critics in the White House, Congress, or right-wing media.
"President and Mrs. Obama have always believed in the power of storytelling to inspire," Eric Schultz, a senior adviser to the former president, said Thursday in response to the report. "Throughout their lives, they have lifted up stories of people whose efforts to make a difference are quietly changing the world for the better. As they consider their future personal plans, they continue to explore new ways to help others tell and share their stories."