Entertainment
'Avengers: Infinity War' sets a new opening weekend record at the box office
Monday, April 30th 2018, 2:59 PM CDT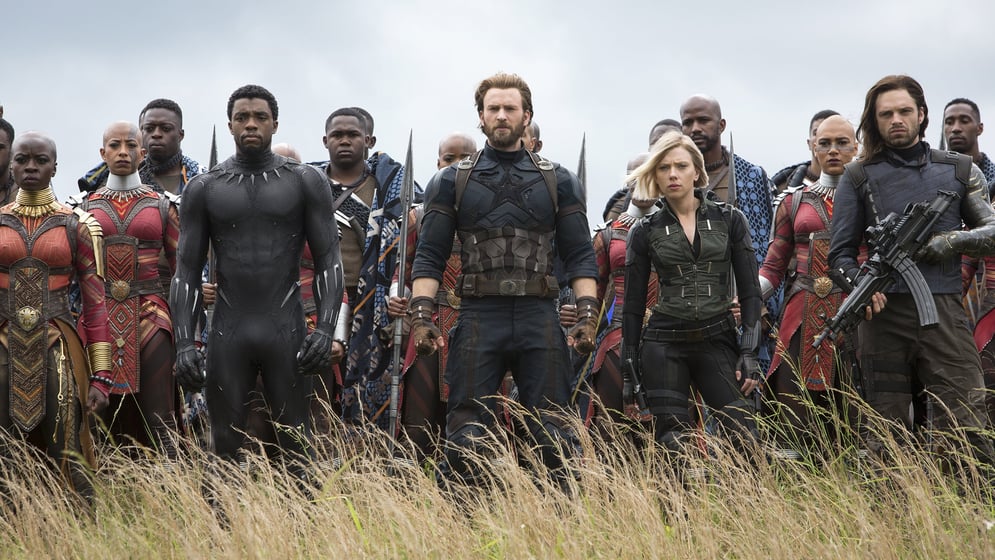 For the first time since it premiered in theaters, Aquaman wasn't the weekend's top movie at the box office — but Warner Bros. Pictures probably isn't too upset about that, because the oceanic superhero's solo feature became the first film in the studio's DC Extended Universe (DCEU) to cross $1 billion.
Kevin Hart and Bryan Cranston's new comedy The Upside won the weekend, and although its debut was a good one — despite receiving just 39-percent positive reviews from professional critics — it was outshined by the performance of Aquaman. The WB superhero movie ended its three-week reign as the top movie in U.S. theaters, but crossed a major benchmark worldwide in the process.
With a worldwide box-office gross of $1.02 billion, Aquaman is now the highest-grossing film in WB's cinematic universe of DC Comics heroes and villains. The film also moved into second place overall on the list of the highest-grossing movies based on DC Comics characters, coming in just behind 2012's The Dark Knight Rises ($1.08 billion) and passing 2008's The Dark Knight ($1 billion).
The $287.8 million Aquaman has earned in U.S. theaters leaves it with a long way to go to match current DCEU domestic record-holder Wonder Woman ($412.5 million), but it could still do so if it can maintain momentum.
| | | | |
| --- | --- | --- | --- |
| # | Title | Weekend | U.S. Total |
| 1. | The Upside | $19.5M | $19.5M |
| 2. | Aquaman | $17.2M | $287.8M |
| 3. | A Dog's Way Home | $11.3M | $11.3M |
| 4. | Spider-Man: Into the Spider-Verse | $9M | $147.7M |
| 5. | Escape Room | $8.9M | $32.4M |
| 6. | Mary Poppins Returns | $7.2M | $150.6M |
| 7. | Bumblebee | $6.7M | $108.4M |
| 8. | On the Basis of Sex | $6.2M | $10.5M |
| 9. | The Mule | $5.5M | $90.5M |
| 10. | Vice | $3.2M | $35.9M |
As for the rest of the weekend's highest-grossing films, The Upside wasn't the only new release to crack the top ten.
Sony's family feature A Dog's Way Home debuted in third place, and paired the 60-percent positive reviews it received from critics with a warm, "A-" grade from ticket-buying audiences. An adaptation of W. Bruce Cameron's novel of the same name, the film is the latest installment of a series of movies based on Cameron's canine-focused stories.
The rest of the weekend's top films were all returning features, with animated feature Spider-Man: Into the Spider-Verse continuing its impressive, award-winning run in fourth place, among other noteworthy box-office highlights.
The biggest release this upcoming week is M. Night Shyamalan's crossover film Glass, a sequel almost two decades in the making, which brings together the cast of 2000's Unbreakable and 2016's Split. Early reviews of the film have been mixed, but with few other notable releases, it stands the best chance of challenging the weekend's top films.