Travel
Picture Organic Clothing may have just made the eco-friendliest wetsuit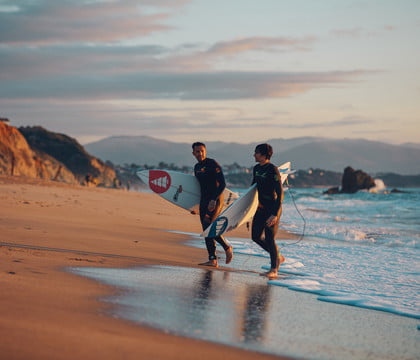 If you're looking to be one with the ocean on your next scuba, snorkeling, or just general aqua-based excursion, you may consider getting a wetsuit that doesn't negatively impact your watery environment — at any stage of its life. Here to help you do that is a new piece of technology from Picture Organic Clothing.
It's being heralded as the most eco-friendly wetsuit ever, and is made of a "sustainable and responsible alternative" to neoprene, the material most commonly used in wetsuits (and one that is not exactly recyclable or biodegradable). Rather, the Picture Wetsuit uses a natural rubber which claims to reduce the suit's carbon footprint by half.
The technology Picture Organic Clothing leverages is known as NaturalPrene stretch technology, and is comprised of 85 percent natural rubber and 15 percent synthetic chlorine-free rubber. And rather than using toxic adhesives and solvents in the construction process, Picture instead claims to integrate micro particles that help NaturalPrene extend up to nearly four times its original size, and a solvent-free water-based glue to paste in the recycled polyester lining. This, the team claims, allows for "maximum comfort and ultra-fast drying."
In essence, there are four key layers to the Picture Wetsuit, including an outside liner made of a recycled polyester. This is adhered to the NaturalPrene by way of the aforementioned water-based glue. The NaturalPrene serves as a barrier against cold in chillier climates, but also features air holes for lightness and breathability, while the inside liner (also made of recycled polyester) maintains warmth. All in all, the wetsuit is not only neoprene free, but also solvent and petrol free.
In addition to all these eco-friendly attributes, the Picture Wetsuit is also high-tech when it comes to its performance. The suit features a unique silicone coating that claims to give you more power in the water when you're paddling, which means that you'll have to expend less effort in order to make your way through the water. Moreover, the suit boasts a high-performance polyester fabric that is hydrophobic, meaning it'll repel water and dry faster (and insulate better, too). While we haven't tested out the Picture Wetsuit for ourselves to verify these claims, if they're all true, it certainly seems like a pretty impressive piece of equipment.