Entertainment
What's new on Hulu and what's leaving in July 2018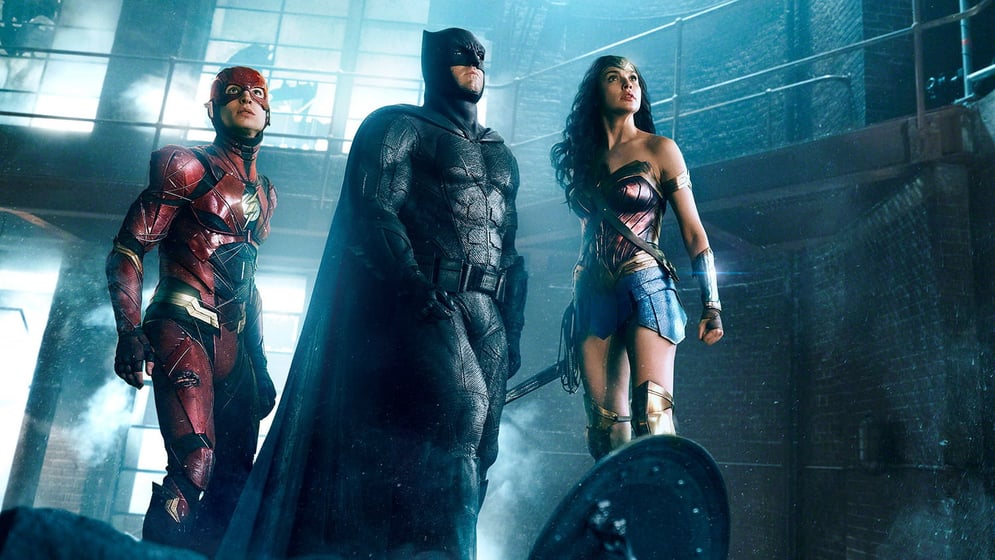 Fall is here, and Hulu is delivering plenty of reasons for TV and movie lovers to stay warm and cozy inside through November. The streaming site has an impressive list of new offerings this month, from compelling original series to critically acclaimed movies. Here are some of the highlights, as well as a full list of what's new this month.
The impending arrival of the holiday season offers a lot of opportunities for binge-watching popular series and catching a wide variety of films. Hulu is delivering ample amounts of content on both fronts.
On the television side, Hulu will debut the second installment of its frightening Into the Dark anthology series, as well as all 11 seasons of raunchy comedy Married With Children. Among the movies coming to Hulu in November is the heartwarming drama Wonder, the first three installments of the modern Ocean's Eleven franchise, and a long list of James Bond films for fans of the iconic secret agent.
Read below for our top picks, or scroll to the bottom for the full list.
Our top picks for November
'Into the Dark: Flesh & Blood'
A co-production with celebrated horror producer Jason Blum's studio, Into the Dark is an anthology series delivering one feature-length, stand-alone episode each month. Each of the 12 episodes are inspired by a holiday, and November's Flesh & Blood follows an agoraphobic teenager who — in the lead-up to Thanksgiving — begins to suspect her father had a role in her mother's murder.
'Married With Children' Seasons 1-11
This series that ran from 1987 to 1997 on FOX remains the longest-running live-action sitcom to air on the network. It chronicled the ridiculous, raunchy, and irreverent trials and tribulations of former high-school football quarterback and current shoe salesman Al Bundy, his family, and the colorful cast of characters that populate their lives. The series turned stars Ed O'Neill, Katey Sagal, Christina Applegate, and David Faustino into stars and ushered in the dominance of FOX programming, with jokes that often pushed the boundaries of prime-time standards.
This 2017 drama is based on the best-selling novel of the same name, and follows a young boy with a medical condition that has affected his facial appearance as he struggles to find his place in a small, private school after years of home-schooling. The film stars Jacob Tremblay (Room) as August "Auggie" Pullman, who leads an impressive ensemble that also includes Julia Roberts, Owen Wilson, Mandy Patinkin, and Daveed Diggs.
November will also be your last chance to watch a variety of movies before they leave Hulu. Be sure to catch films like American Psycho, Escape From New York, and The Terminator before they disappear.
Below is the full list of everything new coming to the streamer in the month of November, and everything going away.
Everything new on Hulu in November
10 to Midnight (1983)
28 Days Later (2002)
2001 Maniacs (2005)
The Accused (1988)
The Adventures of Priscilla, Queen of the Desert (1994)
Albert (2016)
Alice (1990)
Amelie (2001)
Bachelor Party (1984)
Barbie: Mariposa and Her Butterfly Fairy Friends (2008)
Barbie The Pearl Princess (2014)
The Big Lebowski (1998)
The Birdcage (1997)
Benny & Joon (1993)
Blue Chips (1994)
Boo 2! A Medea Halloween (2017)
Candyman 3: Day of the Dead (1999)
Carnage Park (2016)
De-Lovely (2004)
Death Wish (1974)
Death Wish 3 (1985)
Death Wish IV: The Crackdown (1987)
Desperate Hours (1990)
Diamonds are Forever (1971)
Die Another Day (2002)
Dr. No (1962)
Dysfunktional Family (2003)
Existenz (1999)
The Faculty (1998)
A Fairly Odd Christmas (2012)
A Fistful of Dynamite (1972)
For Your Eyes Only (1981)
Four Rooms (1995)
From Russia with Love (1964)
Gloria (2014)
Goldeneye (1995)
Goldfinger (1964)
Guns of the Magnificent Seven (1969)
Happy Christmas (2014)
Hellraiser III: Hell on Earth (1992)
Hellraiser IV: Bloodline (1996)
Hoosiers (1986)
Hostel (2006)
Hostel 2 (2007)
The Interpreter (2005)
Invasion U.S.A. (1985)
Italian for Beginners (2000)
Jane Eyre (2011)
Joey (1988)
Johnny Reno (1966)
K2 (1991)
Leaving Las Vegas (1995)
License to Kill (1989)
Like Water (2012)
Little Black Book (2004)
Little Man Tate (1991)
Little Odessa (1994)
Live and Let Die (1973)
The Living Daylights (1987)
Lord of War (2005)
Made (2001)
The Magnificent Seven Ride (1972)
The Man with the Golden Gun (1974)
Map of the Human Heart (1992)
The Mighty (1998)
Missing in Action II: The Beginning (1985)
The Mod Squad (1999)
Moonraker (1979)
Mullholland Falls (1996)
Never Back Down (2008)
Never Say Never Again (1983)
Ninja III: The Domination (1984)
Ocean's Eleven (2001)
Ocean's Twelve (2004)
Ocean's Thirteen (2007)
On Her Majesty's Secret Service (1969)
Phantoms (1998)
Pleasantville (1998)
Radio Days (1987)
The Red Violin (1999)
Rescue Dawn (2006)
Revenge of the Ninja (1983)
Rob Roy (1995)
Santa Hunters (2014)
Searching for Bobby Fischer (1993)
Soapdish (1991)
Soufra (2017)
Species: the Awakening (2007)
Supercop (1996)
The Spy Who Loved Me (1977)
Thunderball (1965)
Tiny Christmas (2017)
Tomorrow Never Dies (1997)
Wicker Park (2004)
The World is Not Enough (1999)
A View to Kill (1985)
XXX (2002)
XXX: State of the Union (2005)
You Only Live Twice (1967)
Into The Dark: Flesh & Blood
Wonder (2017)
Kick-Ass (2010)
Larger Than Life (2018)
An Ordinary Man (2017)
Married With Children: Seasons 1-11
The Little Death (2014)
The Wolfpack (2015)
Bigfoot (2018)
Keepers of the Magic (2018)
Killer Bees (2018)
12 Dog Days Till Christmas (2014)
A Christmas Kiss II (2011)
A Cinderella Christmas (2016)
A Dogwalker's Christmas Tale (2015)
A Puppy for Christmas (2016)
Angels in the Snow (2015)
Back to Christmas (2014)
Cartel Land (2015)
Christmas Belle (2013)
Christmas with the Andersons (2016)
Dust 2 Glory (2018)
Girlfriends of Christmas Past (2016)
Holly's Holiday (2012)
Luis & The Aliens (2018)
Married by Christmas (2016)
My Dad is Scrooge (2014)
My Santa (2013)
Naughty & Nice (2014)
Rodeo & Juliet (2015)
The Bank Job (2008)
The Christmas Calendar (2017)
The March Sisters at Christmas (2012)
The Secret of the Nutcracker (2007)
The Bisexual: Season 1
Holly Hobbie: Season 1
Dept. Q: A Conspiracy of Faith (2016)
Dept Q: The Absent One (2016)
Dept. Q: The Keeper of Lost Causes (2016)
Hero ("Ying Xiong") (2002)
The Condemned (2007)
Aliens and Agenda 21 (2018)
Box of Moonlight (1997)
Damascus Cover (2018)
Broken Star (2018)
Daylight's End (2016)
Scenic Route (2013)
The Remains (2016)
Undrafted (2016)
A Good Woman (2006)
A Murder of Crows (1999)
Always Watching (2015)
American Psycho (2000)
American Psycho 2 (2002)
Anaconda (1997)
Anarchy Parlor (2015)
Be Cool (2005)
Burnt Offerings (1976)
Cake (2015)
City Island (2010)
Cool It (2010)
Darkness (2002)
Doctor Dolittle 2 (2001)
Driftwood (2016)
Emma (1996)
Escape From New York (1981)
Extortion (2017)
Fall Time (1993)
Get Shorty (1995)
Ghost In the Shell (1995)
Going Overboard (1989)
Harley Davidson and the Marlboro Man (19914)
I Am David (2004)
Joyride (1997)
Prancer (1989)
Primal Fear (1996)
Pumpkinhead (1988)
Pumpkinhead II: Blood Wings (1994)
Roger Dodger (2002)
Senorita Justice (2004)
Small Town Saturday Night (2010)
Species (1995)
Species II (1998)
Species III (2004)
Stanley & Iris (1990)
Stealth Fighter (1999)
The Terminator (1984)
They Came Together (2014)
What Dreams May Come (1998)
What's Eating Gilbert Grape (1993)
Without (2012)