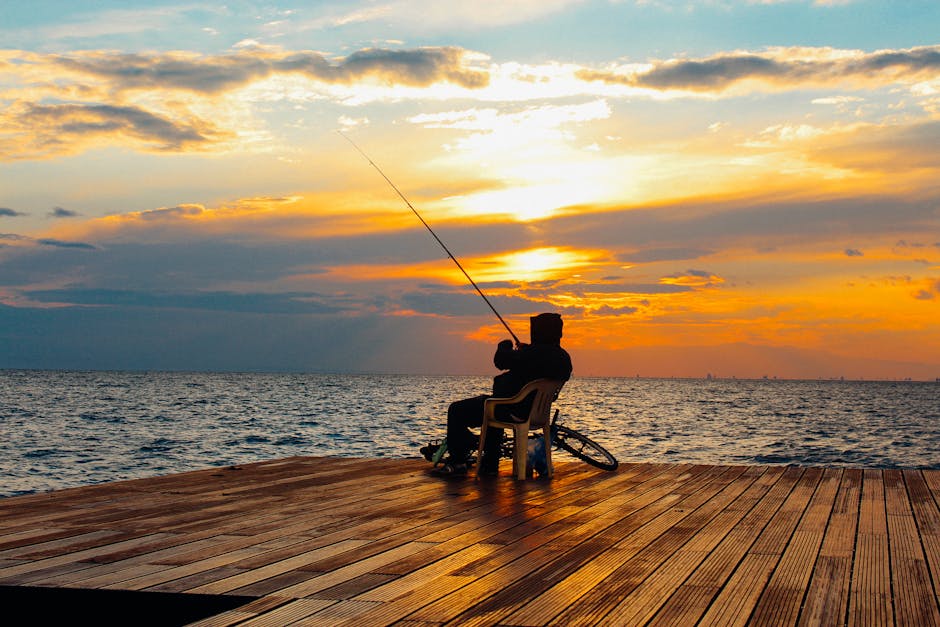 Are you ready to escape?
Picture it. The warm sun in your face as you comfortably sit on your boat. All around you, the water sits perfectly still, reflecting the clear blue skies.
In the air, you hear the faint sound of crickets and birds chirping. Holding a drink in one hand and your fishing pole and the other, life feels complete.
In a perfect world, you'd be able to escape and go fishing anytime you want. However, in the real world, it can be tricky finding the time you need.
Luckily, when you watch the best fishing shows, you can transport yourself to another reality. Suddenly, instead of sitting at home, you're following someone on their fishing adventure.
Read on to learn about six must-see fishing shows!
1. Wicked Tunas: One of the Best Fishing Shows
When you need to relax without going fishing, sitting down to watch an episode of Wicked Tuna is the best way. Good fishing tv shows, like Wicked Tuna, care about showcasing the natural beauty fisherman can enjoy.
Viewers will enjoy footage of the breathtaking waters located in Gloucester Massachusetts. Another reason we think Wicked Tuna is one of the best fishing shows, is because it's exciting.
Wicked tuna is about several different groups of fishermen who were all out on the same mission. Their goal is to catch some of the biggest giant bluefin tuna.
All of the fishermen are commercial fishermen. This means they have to bring home a lot more than just one giant bluefin tuna.
It's thrilling to watch these professional fishermen work hard at being the best in their industry. To make things even harder, the fishermen also have to work against a dwindling bluefin tuna population.
As a bluefin tuna population goes down, the fishing seasons grow shorter. There's never a dull moment, as you watch these guys try their best to catch a lot of fish quickly with some of the highest stakes at play.
2. River Monsters
The Loch Ness monster should watch out, cause the boys from River Monsters are on a mission. In this action-packed series, you'll be able to enjoy all of the potential bogeyman living in the world's waterways.
Getting its inspiration from folk tales told by local fishermen, River monster is a must-see adventure. Angler Jeremy Wade sets out in each episode to catch the most dangerous freshwater fish.
As Jeremy travels the world, each new location presents a monstrous catch opportunity. While River Monsters isn't currently airing, you can still catch repeat episodes.
3. Bill Dance Outdoors
Standing the test of time, Bill Dance Outdoors has been on the air for over 40 years. The Bill Dance Outdoors show focuses on the different technical aspects that apply to fishing.
Recreational smallmouth and largemouth bass fishing are the two main topics Bill Dance Outdoors covers. If you're looking to refresh knowledge when it comes to fishing techniques, this is the show is perfect for you.
Each episode showcases Bill going on a unique type of fishing expedition. Every new outing offers viewers an opportunity to learn about Bill's equipment and techniques.
During your episode, there will be a moment where Bill clearly explains what techniques he'll be using in the show. His concise explanations make it easy for you to put his practices to use on your own.
4. The Ultimate Fishing Show
The ultimate Fishing Show focuses on extreme sport fishing in New Zealand. Stunt fisherman Matt Watson guides the show energetically and engagingly.
You'll love watching Matt share his passion for fishing, along with his love for the sport. How exactly do you participate in extreme sportfishing?
If you're the show's host, Matt Lawson, it's by catching a Marlin with your bare hands after jumping out of a helicopter. Other popular ways that Matt enjoys going after Marlins include jet skis and surfboards.
Another great aspect of the Ultimate Fishing Show is that it's a story of the underdog winning it all. Matt began his show on a very low budget with one goal in mind. All Matt wanted was to share the amazingness of game fishing to people who never knew it existed.
Today, Matt's show is a worldwide success! Episodes have aired on channels such as Animal Planet and Discovery.
5. Carl and Alex Fishing
Is family everything for you? If fishing brings back fond memories of quality time spent with loved ones, then Carl and Alex's fishing is the show for you. In the show, you'll enjoy watching the two brothers Carl and Alex go fishing.
Each episode consists of these two brothers going together to different countries. They share special experiences in each country, and it's always some type of fishing venture.
The episodes are typically 10 minutes to 60 minutes long. The shorter episodes are great for when you don't have a lot of time on your hands but need a fishing fix.
6. Ultimate Match Fishing
If you of the thrill of competing, or watching others compete, then Ultimate Match Fishing is a show for you. This competitive fishing show highlights eight of the best professional bass anglers in the world.
Each angler has to compete against the others. To make things more exciting, the competition takes place in a single-elimination tournament.
The hosts are Mark Randolph, Joe Thomas, and Fish Fishburne. Each host comments on the action and gives the show an added sense of intensity and entertainment.
You won't be able to stop watching as you wonder which bass angler will walk away with the UMF championship. Currently, ultimate match fishing is in its 10th season. If you want a combination of competition, information, and entertainment, the show is for you.
Unwind With Your Favorite Show
There you have it, six of the best fishing shows out there! Now, instead of watching TV for fun, you can watch to improve your fishing technique.
We hope this article helps you find at least one new show. For more ways to enjoy your passion for fishing, check out the rest of the site.
Information contained on this page is provided by an independent third-party content provider. Frankly and this Site make no warranties or representations in connection therewith. If you are affiliated with this page and would like it removed please contact pressreleases@franklymedia.com