Maui's Best Waterfalls
Waterfalls are truly a thing of natural beauty. The way in which the water flows over the rocks and ravines, free falling into a body of water below each waterfall has its own unique traits. And, the beautiful waterfalls of Maui are no exception.
Below is a list of the top 5 Maui waterfalls and specifics about each one.
Be Careful At Waimoku Falls, Rocks Are Known to Fall
Waimoku Falls
Waimoku Falls is a 400-ft waterfall and because of its massiveness, it can be seen from various spots along the Pipiwai Trail. Located at mile marker 41, just off of the Road to Hana you can reach Waimoku Falls by hiking a couple of miles through a bamboo forest. Waimoku Falls is inside the Haleakala National Park, with parking available at the visitor's center. Being inside the national park, the trail to the falls is well maintained. as you climb up 600 feet. The full hike takes 2-3 hours, as you climb up 600 feet, and while it isn't overly strenuous, you will get a bit of a workout.
Wailua Falls
Wailua Falls
Wailua Falls is not only one of the most beautiful Maui waterfalls but it's also one of the easiest to access. It is located just off of the Road to Hana and is so visible that you can see it from the highway. However, if you want to take it all in, find mile marker 44 where there is ample parking. and you'll find Wailua Falls. Surrounded by vibrant green vegetation, Wailua Falls flows throughout the year and the pool beneath is also easily accessible.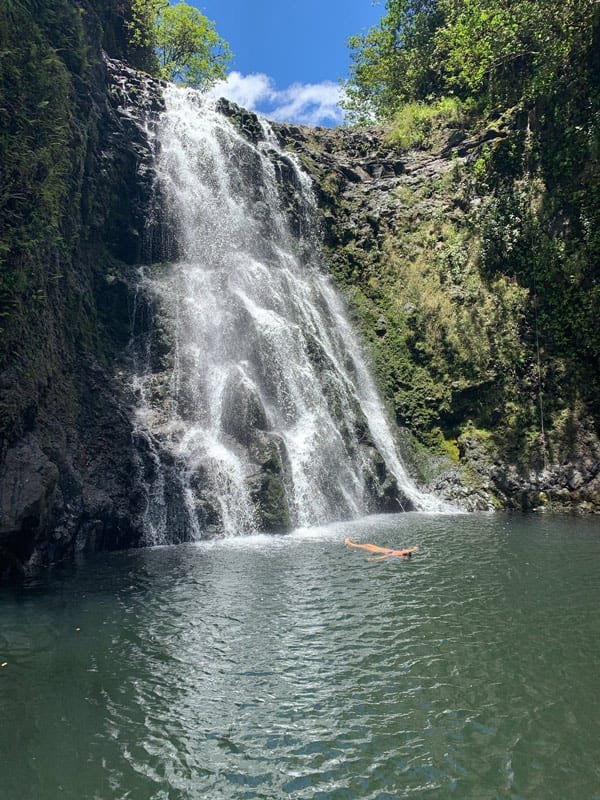 Two Separate Waterfalls: The Back One Offers More Privacy
Waikamoi Falls
The Waikamoi Falls is made up of two waterfalls. The smaller of the two is located at mile marker 10 on the Road to Hana. This waterfall is in plain sight, no hiking required. The second is higher up the mountain. The underlying pool at this one can be accessed as well and there are several sitting places where you can enjoy the water falling right on top of you. To access the second, larger Waikamoi Falls, you'll need to hike upstream. Both locations have water flow year-round but is much fuller and more beautiful after a rainstorm.
Makahiku Falls
Makahiku Falls can be found on the Pipiwai Trail in the Haleakala National Park. This 200-ft Maui waterfall is referred to as a horsetail waterfall because of its resemblance to a horse's tail, being thinner at the top and gradually widening towards the bottom. Unlike many waterfalls that freefall away from the rock, a horsetail waterfall flows down maintaining contact with the bedrock. At the top of Makahiku Falls, there is a pool referred to as an "infinity pool." Weather permitting, this is an ideal spot to relax and cool off as you take in the surrounding scenic views.
Maui's Largest Waterfall
Honokohau Falls
Honokohau Falls, a two-tiered waterfall that spans more than 1100 ft., is Maui's tallest waterfall. It is fed by the Honohokau stream, a river that begins near the top of Mauna Kahalawai's tallest peak, Pu'u Kukui.
Due to the elevation, the top of the waterfall is often cloaked by clouds, making it appear that that water is flowing down from the clouds into the mountains. Its massive magnificence even earned it a spot in the 'Jurassic Park' movie, contributing to the ethereal scenic beauty in the film.
While many of Maui's waterfalls are fairly easy to get to, Honokohau Falls is an exception to this. Located in a valley on West Maui, it is only accessible via helicopter ride, which provides a unique birds-eye view. The helicopter tours book up, so advanced reservations are encouraged.
Final Words
Tours are available to the waterfalls of Maui and when you choose this option, you'll be sure to see them in their most beautiful state, not to mention have the opportunity to learn about Maui history along the way.
Posted in Waterfalls, Maui Experience, Road to Hana, Blog, Maui Hikes, Things to Do on Maui
Post navigation
Hula Dancing: History and EvolutionUsing Craigslist on Maui (Safely)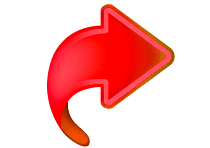 CALL OR CLICK HERE TO EMAIL US ABOUT YOUR MAUI ACTIVITIES. TOLL FREE – 855-268-0387
Information contained on this page is provided by an independent third-party content provider. Frankly and this Site make no warranties or representations in connection therewith. If you are affiliated with this page and would like it removed please contact pressreleases@franklymedia.com