By Ashley Chorpenning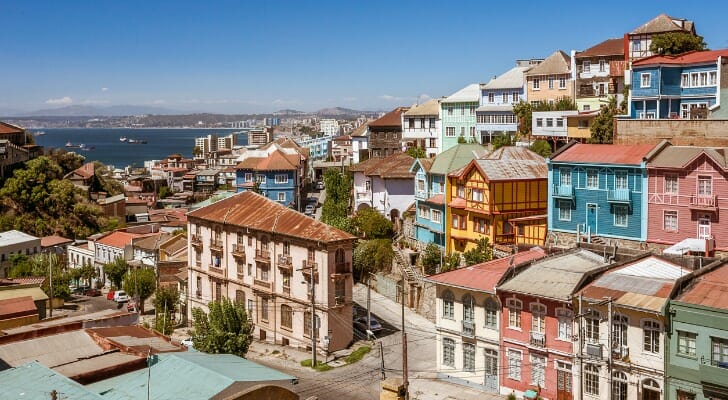 While many retirees flock to warmer climates like Florida, others venture much farther south, with Chile one popular destination. From Mediterranean-like weather in the nation's north, stunning mountains and numerous fjords in the south and a highly regarded wine industry, Chile has a lot to offer retirees. So, if your dream is to retire in this Spanish-speaking country of about 18 million people, here are key facts to be aware of before you make that move.
It's a good idea to consult with a financial advisor about your retirement plans. Find an advisor today.
Average Cost to Retire in Chile
Before you grab your passport and head south, it's important to determine how much it will cost to retire in Chile and plan accordingly. Like any other country, your cost of living is determined by the city and the lifestyle you choose. According to Numbeo, a website that collects pricing data from citizens, the average cost of living (excluding rent) is 42.79% lower than in the average cost of living in the United States. Retirees should be able to live comfortably on $2,500 to $3,000 per month, according to InternationalLiving.com.
The national average for utility costs (include garbage service, electricity, and water) is $100, according to Numbeo. Broadband internet with unlimited data can cost an average of $33, which is important when communicating with friends and family at home. You may also want to sign up for cable TV, which costs another $30 per month.
Rent is about 65% lower in Chile than in the United States. The national average for a one-bedroom apartment in a city is about $388 per month and about $330 per month for an apartment in the suburbs. If you want more space, the national average for a three-bedroom apartment is $700 in a city center and an average of $556 in a suburb.
However, rent prices will vary depending on what city you choose. For example, a one-bedroom apartment in Santiago averages about $403 per month.
Healthcare in Chile
Chilean healthcare is excellent. It's ranked 33rd out of 190 countries – ahead of the United States by four places. When living in Chile, you will need either a public or private healthcare plan. If you are taking an income while in Chile, about 7% of your income will contribute to a health plan.
Both the public and private healthcare systems have emergency facilities. A hospital is publicly funded, and a clinica is a private facility. The clinicas typically have higher quality services. Most foreigners will not have access to public healthcare, so expatriates in Chile typically choose to use the private healthcare system because it is easier to gain access to and has more English-speaking doctors.
The private system, called Las Instituciones de Salud Previsional (ISAPRE), is a group of 13 health insurance companies. You can speak with other expatriates to learn which ISAPRE is most prominent in your area and has the coverage that you need.
Visa Laws
Many retirees choose to get the retirement visa. It allows people to spend one year in Chile and must be renewed yearly. If you want to work while in retirement, you can apply for a work permit as well.
Individuals do not have to prove that they are retired to apply for a retirement visa. This means that people of any age or pension status can apply for the visa. It allows individuals to work, start a business, or invest in a home in Chile.
To apply for the visa, you will need a copy of your passport and a passport size photo. There is not a published income minimum to apply for the visa, but you should be able to show that you will be able to support yourself while in the country.
Immediately after receiving your visa, you will need to register with the police department and civil register. After one year of holding your visa, you can apply for permanent residency if you have not been out of the country for 180 days consecutively. You must also have paid all your taxes to qualify for permanent residency. Permanent residence lasts for five years. If you are still in good standing with the government at that time, you will be eligible to become a citizen.
Housing in Chile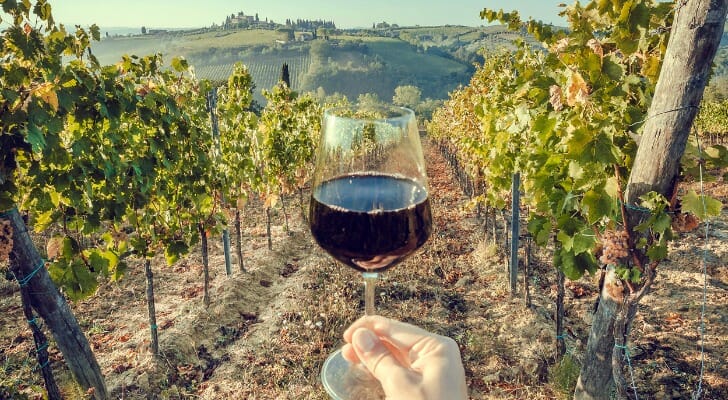 As you plan to move, one of the biggest factors you will consider is housing. Santiago is a hotbed for American retirees, but you may want to consider smaller cities as well. Anyone, resident or not, may purchase property in Chile.
The average home cost in Santiago is about $200 per square foot for a home in the city. This is among the most expensive in the country as a whole, so if you plan to live in the countryside or a different city, the prices will be lower. This is in comparison to New York City, where homes cost about $1,372 per square foot.
Buying a Home in Chile
The home purchasing process is a bit different than in the United States. Fortunately, once you have selected a home, the process only takes about a month. The first thing to know is that there are a lot of fees included in purchasing a home. Fees include:
Lawyer fees of about 1% of the property value
Stamp duty of about 0.2% or 0.3% of the property value
Notary fee of about 0.1% of the property value
VAT of 19% on the first sale of a new construction
When you are searching for a home, you should also assemble the team of professionals that will help you through the home buying process. These professionals should include a notary, a real estate agent, and a lawyer. The lawyer will do all the due diligence on the property, including collecting all the property titles, encumbrance certificates, and any other necessary documents.
When you decide on a property that you like, you will get a Rol Unico Nacional (RUT) number. This is a personal ID number that you will use as you would a Social Security number. Then, you will make an offer on the home and agree on a price with the seller. After that, your lawyer and notary will do a title search and orchestrate a transfer of funds. Once all the documentation has been handled and cleared, both the buyer and seller will sign the sales documents in the presence of a notary and the property will change hands.
If you need a mortgage, foreigners can borrow money from Chilean banks. This may increase the time it takes to purchase a home, and you will still be required to put at least 10% of the purchase price down on the home.
Taxes in Chile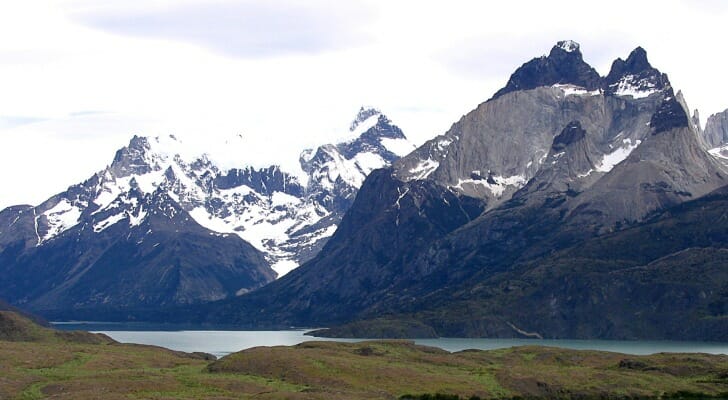 Chilean residents are only taxed on income earned in Chile. The rate is progressive and rises to a maximum of 45%. As a U.S. resident, you must file taxes in the United States each year. You will have to report any foreign bank accounts as well. If you earn any money outside of the U.S., you can use a few different provisions to reduce your U.S. taxable income. These include the foreign earned income exclusion, the foreign tax credit and the foreign housing exclusion, among others.
If you'd like to forecast your tax burden more specifically, you can consult a tax expert who is familiar with both U.S. and Chilean tax laws.
Safety in Chile
Compared to most South American countries and some of the North American countries, Chile is safe. However, one of the biggest problems that expatriates may encounter is petty theft around the cities.
If you decide to retire in Chile, you'll want to be aware of your surroundings, keep a low profile and follow instructions of local authorities, including movement restrictions, as well as obey any curfews.
The Bottom Line
If you're ready to spend your retirement years exploring the wilderness in Patagonia or tasting the country's wine varietals, Chile has a lot to offer. But, before you begin your journey south, make sure to consult a financial advisor who can help you determine the affordability of living in Chile.
Tips for Retiring Overseas
Consider talking to a financial advisor about making a plan for retiring overseas. Finding the right financial advisor who fits your needs doesn't have to be hard. SmartAsset's free tool matches you with financial advisors in your area in five minutes. If you're ready to be matched with local advisors who will help you achieve your financial goals, get started now.
An essential part of saving for retirement is making sure the money you save remains untouched. Dipping into your savings may seem tempting if you're low on cash, but you'll pay for it down the line. Consider creating an emergency fund so you can deal with life's little challenges without raiding your nest egg.
Photo credit: ©iStock.com/pierivb, ©iStock.com/Radiokukka, ©iStock.com/Ambasadorka
The post How to Retire in Chile: Costs, Visas and More appeared first on SmartAsset Blog.
Information contained on this page is provided by an independent third-party content provider. Frankly and this Site make no warranties or representations in connection therewith. If you are affiliated with this page and would like it removed please contact pressreleases@franklymedia.com