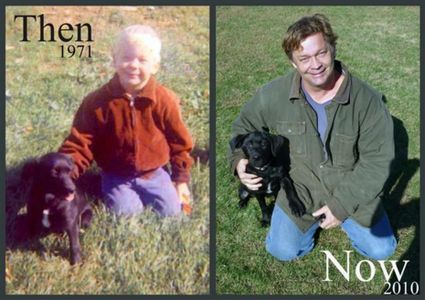 Originally posted on: https://chocolatelabradorretriever.ca/f/do-labrador-retrievers-grieve-when-an-animal-dies-in-the-home
Experienced Chocolate Lab Breeders
The thought of being a Labrador Retriever Breeder Ontario never occurred to us early on in life. Our love for Labrador Retriever puppies started back in 1971. I was just five years old when we moved into a new home. The lady selling us the home had a Labrador Retriever that she could not take with her where she was moving and feared that she would have to put him down. My parents agreed to take the dog along with the purchase of the house. We ended up saving him and named him Lucky. I remember spending hours on end playing with him. We would wrestle, play chase, have races (I would never win) and pretend to be hunters of ferocious game. As a boy I didn't need any imaginary friends because my best friend Lucky was always ready to play with me. Our kennel name Lucky Labs is in memory of the very first best friend I made.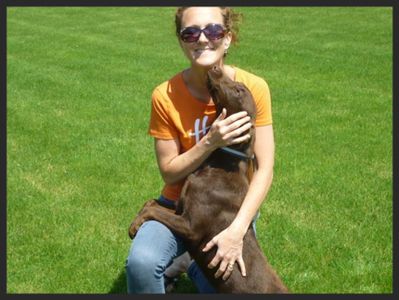 Labrador Retriever Breeding Done Right
Lifetime support for your Lab pup
No Lab Inbreeding or Linebreeding
4 year written Lab health guarantee
Parents/Grandparents health tested
Clients screened for Lab suitability
Vet Inspected Kennel/Whelping
Super premium food fed to all Labs
Lab rehoming (no Labs in shelters)
Our Labrador Retriever Ontario Family
Only 5 minutes outside the small town of Wallaceburg, we are living our dream raising our 3 children in a big country home. We are both former professionals who decided to leave the world of being trapped behind a desk in an office. Raising Lab puppies in Ontario has become a dream come true. In the spirit of doing our part to save the planet we grow much of our own food in an acre garden. We have raised a couple of pigs, turkeys, chickens and have laying chickens for their fresh eggs. Although we are not farmers, we enjoy the satisfaction of biting into an organic tomato or other vegetable fresh from the garden. What we can't eat we freeze or pickle for the winter months. We are close to Mitchell's Bay on Lake St. Clair where we fish for bass, perch and walleye and throw balls into the water for the labs to retrieve until our arms fall off.
We Love our Labs
Becoming a Chocolate Labrador Retriever Breeder in Ontario means raising, playing with, training and grooming our Labs is all we do. We are lucky to have found an occupation that we are 100% tickled to be doing. The complete focus on our dogs allows us to dedicate 100% of our attention to their well being. Our chocolate lab puppies have been placed all over Ontario, Canada and the US. Meeting all the wonderful people who adopt our dogs and seeing their faces when they arrive to pick up their lab puppy is one of our favorite things!
We Truly Care
Our belief is that a Lab puppy is a friend for life. This could mean 12, 15 or more years. We make a promise to our extended family of continued support for the life of your Lab. We don't know everything, but if an issue arises that you need help with, we will do everything in our power to assist you with it. As well If unforeseen circumstances arise and you cannot care for your Lab, we will assist in homing him/her. Our goal is 0 of our Labs in shelters and we will take your Lab back until we find a suitable home if necessary.
Labrador Retriever breeder Services
Labrador Retriever Guardian Placement Program
We are always searching for top quality families to assist us in our breeding program. If you are interested acting as a Guardian please click for info.
Best Start Lab Puppy Training Program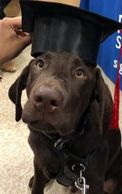 For those who wish their Puppy Training to be started, we offer a 14 day puppy training program. Click for info.
Our Lab Puppy Quality, Guarantee and Price
Not all Labs are created equal. Our chocolate lab puppies and silver lab puppies are a result of a Breeder focus on health, intelligence, and temperament. Click to read more about our level of quality, how we operate and the cost of our Labrador Retriever puppies.
Trained Labrador Retrievers for Sale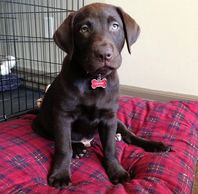 Looking to skip the small puppy stage? The crying, up through the night, jumping on guests….. One of our Trained Labs may be for you. Click for info.
Adult Labrador Retrievers For Adoption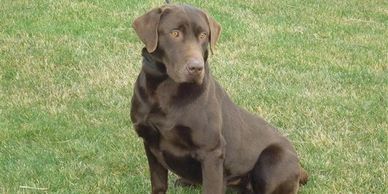 On occasion we have Adult Labs available for adoption. Click for more info.
Labrador Retriever Frequently Asked Questions
Some of the most frequently asked questions and their answers about our Labrador Retrievers and the Lab puppy adoption process. Click for info.
More Labrador Retriever Ontario Programs and Info
Labrador Retriever Service Dog Program
We will provide a service dog for every veteran or first responder who requires one free of charge. Respect and love for those who dedicate their lives for others is our focus. Click for info.
Labrador Retriever Puppy Pictures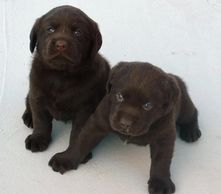 Cute Lab puppy pics from our extended Lab family over the years.
Lab Puppies for Sale
Chocolate Lab Puppies for sale, Silver Lab Puppies for sale, and on occasion Black Lab Puppies and Yellow Lab Puppies. Click to see them.
ZeekeDawg.com Collar Wear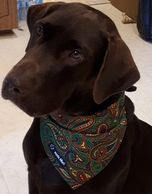 For hand made, custom sewn collar wear such as bandanas, collar flowers and more, visit Zeeke's shop ZeekeDawg.com . Click here to visit!
American Lab or English Lab?
Do you wonder what the heck is the difference? For more info click here.
Online Puppy Training
You can't find a well behaved puppy, you train it! www.puppytrainedright.com Click to visit this excellent site which prepares you to bring your puppy home and train it to be an Angel using positive reinforcement methods.
Labrador Retriever Puppies for sale Ontario
Our Lab Puppies are Worth the Wait!
Looking for Chocolate Labrador Retriever Puppies in Ontario? You've come to the right place! We are committed to strengthening the characteristics of the Labrador Retriever breed. Our focus as Labrador Retriever breeder is to breed Lab puppies with excellent health, outstanding intelligence and even temperament. This breeding focus has resulted in top quality family pets and hunting retrievers. It is because of these qualities that the Labrador Retriever is the most popular breed of dog in the world by registered ownership.
These dogs are used for many things including police and customs work, seeing eye dogs and assistant dogs for people with disabilities including Autism, Emotional Support and Comfort Dogs, Diabetes Blindness and PTSD. Our Chocolate Lab Puppies are athletic, love to swim, play catch/fetch and are excellent with young children.
When looking for a Chocolate Lab puppy, a Lucky Labs puppy is simply the best friend you could ever hope for. Although our current focus is on breeding Chocolate and Silver Lab puppies, our Retrievers will produce Black Lab Puppies and Yellow Lab Puppies on occasion.
All of our puppies are registered as purebred Labrador Retrievers with the Canadian Kennel Club (CKC). When searching for Chocolate Lab puppies in Ontario, Lucky Labs can help provide you with a puppy you will enjoy for years to come.
… and even if we are a bit of a drive it's worth it for a quality Chocolate Labrador Retriever Puppy. If you are looking for a puppy and health, intelligence and temperament matter to you, we have a Chocolate Lab puppy for you! Welcome, and please read through our site to get to know us and our amazing dogs.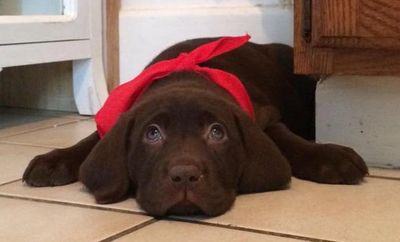 Click the chocolate lab puppy & sign up for our emails!
Contact Us
Labrador Retriever Puppy
Our Puppies for sale are adopted quickly, so reach out to us by completing the Labrador Retriever Puppy Application below. We will be happy to answer any questions you have and walk you through the puppy adoption process.
Lucky Labs Labrador Retrievers
27957 Baldoon Road, Chatham-Kent, Ontario, Canada
Labrador Puppy Application
Email*How often will you exercise your dog?*Where will your dog sleep? Have you checked the price on the Lab Puppy Quality Page?*Are you 18 years of age or older?*Cancel
Labrador Retriever ontario Blog
Do Labrador Retrievers grieve when an animal dies in the home?
January 29, 2019|Lab Retriever Health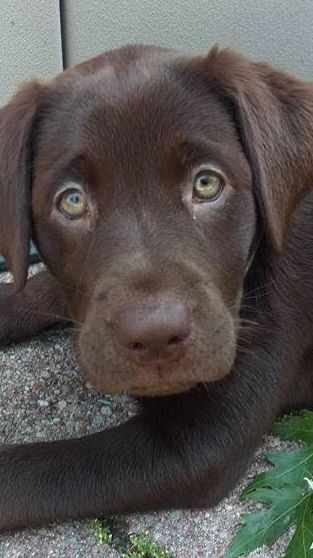 ….and how to help them cope.
We have all seen our dogs form an incredibly strong bond with their humans, the children in the home, another dog and even another cat or other animal. For most dogs this bond is the same regardless of what type of animal it is that has passed away. It may even be a human gone away to school who is the cause of the symptoms interpreted as grief in your Lab but nonetheless, they do miss those who leave.
If you have ever had two dogs in the home and one passes away you have likely witnessed this. Signs you may notice can include a loss or decrease in appetite, they can appear to have less or no energy, their sleeping habits may change or be disrupted or they may appear withdrawn. Yes, cats can also experience these same signs and grieve for the loss of a companion animal but that will be a discussion for another article. Some Labs may whimper or become distant not wanting to be around anyone while others may become clingy and not want you to leave.
In one particular study conducted by a team of researchers headed by Jessica Walker of the New Zealand Companion Animal Counsel who collected data pertaining to 159 dogs and 152 cats, the researchers tested to see if allowing the dog to sniff the deceased friend with the thought that it may understand that the deceased dog was gone and be able to associate a sense of the dog's life ending. The researchers found that the dogs who had an opportunity to sniff had no behavioral differences from those who did not have an opportunity to sniff.
The conclusion drawn is that dogs do not have a concept of death as being a final separation from the one they bond with. This parallels the cognitive ability of a child younger than 4 years old. They understand someone is gone but cannot understand that as death rather they understand the loss of companionship and friendship of their loved one. It is the experience of these feelings that causes the signs we interpret as grieving.
So how can we help our Labs deal with the loss of someone they love? Here is a list of things to consider. It is important to understand these can help any dog just not a Labrador Retriever.
1. Try to keep their routine as close to being the same as possible. Things like waking up, food timings, play time, walks, bed time, and grooming should all be kept the same. The less disruption the better as they will feel safe with the familiarity of their routine.
2. Allow time for a new social structure to evolve. If you had more than two animals, even if some of them were cats or another animal, the dynamics of your surviving Lab's environment will change. There may be some growling between dogs or some hissing among cats but this is normal and required for them to reset their social structure. Tolerate any reasonable bickering and understand what it is.
3. If they lose their appetite keep them on the same food. This is part of the routine and changing their food will be a further disruption if you do so. If they don't eat, keep the food in the fridge and give it to them later. If your Lab doesn't eat for more than a day or so they may have a separate medical issue that requires looking at, take them to your Vet. If they eat a part of their food that's ok, as mentioned put the rest away and feed it to them later. It is important however that they continue drinking and urinating regularly. If they quit drinking see the vet ASAP. Dehydration can be quite serious.
4. Give ample affection and monitor their situation closely. You will need to be aware of the food and water they are getting and you should see some gradual acceptance to their new situation. The symptoms of grief are normally not debilitating so if you see your Lab's situation deteriorating then there could be an unrelated medical issue that needs diagnosing.
5. Don't reward the behaviors related to the depression. It can be easy to want to feed away the sadness like Grandma used to do but training this out of them will help a speedy recovery. The premise is the same as positive reinforcement training. Reward desired behaviors and ignore undesired ones. In case you aren't aware of this, ignoring is complete ignoring meaning no eye contact, no touching and no talking. Our Labrador Retriever puppies are very eager to please so as soon as you don't give them any attention they will learn to do the things you will give them attention for.
6. Groom them daily. If this is not already a part of your daily routine then make it so. The 5 or 10 minute focus, brushing, and massaging them will help to soothe them and put their focus on in the moment pleasure.
7. Carefully think about getting another pet. This will depend on the personality of your dog. Some dogs who are very social and would love to play with another dog right away should be allowed to do so. On the other hand those dogs who are not so social should be given all the time they need before you bring a new animal into the picture. Give some careful thought to the personality of your dog and weather or not they would appreciate a new mate right away. For some this is the key to a speedy recovery but to others a new pet may not be so welcome.
8. In time all things pass. Who said that? I'm not sure but accept that this is their life, and yours right now and live in the moment. Take each day one at a time, you will know when the time is right for change and the healing process is complete.
9. If you make the tough decision to euthanize your pet then you may decide to have your other pets around when this happens. As I mentioned earlier Labs can't understand death as we do but it might help them so they aren't walking around the house looking for their deceased buddy. More importantly, this may help you who does have an understanding of death sort out the new social order in your home. I realize that the focus of this article is to be aware of how your dog deals with the issue but you are the conductor of the house. Be sure you have both feet on the ground so that you can be there for your animals.
Information contained on this page is provided by an independent third-party content provider. Frankly and this Site make no warranties or representations in connection therewith. If you are affiliated with this page and would like it removed please contact pressreleases@franklymedia.com